Back to staff directory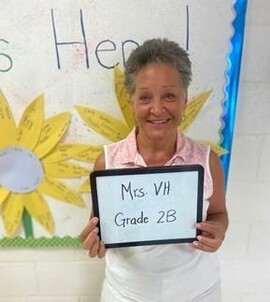 Grade 2B
My Deep Hope: My Deep Hope for my Grade 2 students is that they understand God's blessings of His grace and love for them, so that they have a desire to respond in thankfulness, by begin a blessing to others.
I am married to Mr. VH, who drives bus for ICS and owns a painting business in town. We adopted two boys who are now both daddies. We enjoy spending time with our two grandchildren who bring much added joy and blessing to our lives!
I have taught for many years in both Alberta and the US, but find each new year, week and day full of new challenges and rewards. Each student adds a fresh perspective to each new day and I look forward to growing and learning more about God's faithfulness and His amazing designs together.
We are "BLESSED to be a BLESSING" to others! Each new day the Lord provides many opportunities for each of us to become a BLESSING to someone else.
"Only one life;
Will soon be past –
Only what's done
For Christ will last!
Blessed to be a Blessing,
Mrs. VH